Our History
Since the early days, Kingdon has been working to create products of superior quality and give the customer an experience that's easy and efficient. Being the second Truss manufacturer in Ontario and the second in all of Canada means we've seen it all. Kingdon Truss has been working for over 60 years to bring you the best and the latest in the industry.
Kingdon Truss has a rich history in the Kawartha's – the company originated from a barrel manufacturing company in Peterborough in 1840 and evolved into a lumber yard and hardware store in the early 1920s where we also expanded to Lakefield. In the 1950s we were the first to bring the Truss to this region and help revolutionize the building process.
Over the years we have grown our manufacturing department to include roof trusses, floor trusses, and interior doors. We have certified designers to help you with your plans, and make sure that everything is safe, efficient, and cost effective.
Still locally owned and operated, Kingdon Truss is a branch of Kingdon Timber Mart. Being part of the larger Timber Mart group means we are a member of Canada's largest building material buying group – and that means lower prices for you!
Kingdon Truss
Lakefield, 1952
In 1926 the Lakefield location was established as a sawmill/lumberyard and barrelhead factory. The photo shown was taken in 1952. It now houses our Truss Manufacturing Plant.
Kingdon Timber Mart
Peterborough, 1986
In 1986 we expanded back to Peterborough where it all started. Establishing a retail location with offices on Lansdowne St E. Still operating from Peterborough today, we have retail and design space in our 309 Lansdowne St E location.
Kingdon Timber Mart
Lakefield, 2020
Having outgrown our previous Lakefield location which served us well for over 90 years, we have expanded to a 50,000 square foot retail centre that brings you the best selection and brands for your projects. Find us at 1285 Buckhorn Road.
Presidents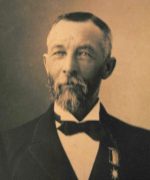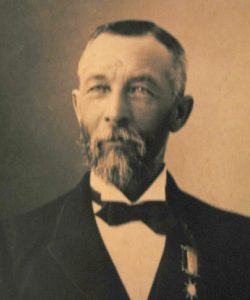 George Samuel Kingdon
George was a Cooper that immigrated from England in 1846 and set up shop in what is now our Downtown Peterborough. Creating business ties with Quaker Oats, George supplied barrels and barrel heads for their products.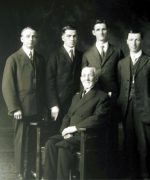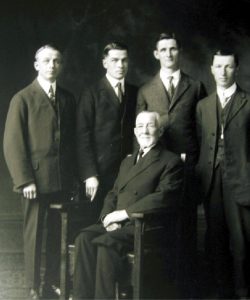 Founding Fathers
George Samuel Kingdon (Front), Orville Kingdon (Second from the right at back) Expanded operations into Lakefield in 1927. Staring with cedar shakes (shingles) production, and then seeing the need they created a sawmill and lumberyard making use of the Otonabee river and Lake Katchawanooka.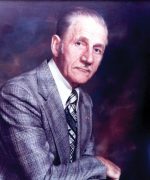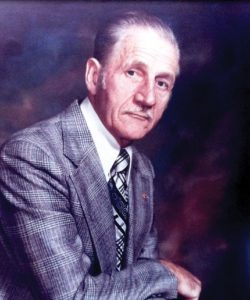 Arthur Kingdon
Founder of Kingdon Truss and CEO and Owner of Kingdon Lumber from 1946-1986. Art was always a forward thinker and saw the market shift away from barrels, cedar shakes, and rough sawn lumber. And in the late 1940s he transitioned the business into a more hardware and building supply focused establishment. Seeing the roof truss method in Florida in the mid 1950s he saw the advantages and decided to bring this new method to Canada. He was the first in Ontario and the second in all of Canada to do so.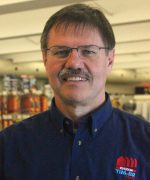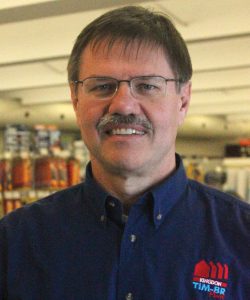 Don Dyck
Current President and Co-Owner of Kingdon Truss/Kingdon Timber Mart. In 1986 Don and wife Kim (Kingdon) became sole owners of Kingdon Lumber. In 1991, Don saw the need to expand to Peterborough, and then in 1996 moved to the current Peterborough location. Making the change from sole owner in 2016 when his son and son-in-law became partners. Over the last 30 years Don has been working on expanding the Lakefield location, and in more recent years this has resulted in a new, larger, and improved Lakefield location at 1285 Buckhorn road.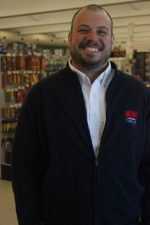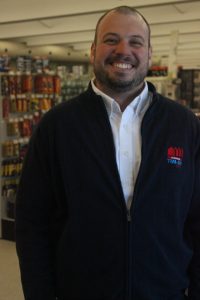 Kevin Dyck
Co-Owner of Kingdon Truss/Kingdon Timber Mart and VP of Operations. As a 7th generation member of the Kingdon family, Kevin is passionate about his family's history and contributions to the Kawarthas. Growing up around the lumberyard has given him an opportunity to work in a variety of positions within the company; from working in the yard, the truss plant, marketing, and sales Kevin has used his on the job experience as well as university degree in Business to inform his role within the company. Kevin was part of the founding team of our newest and expanded Lakefield retail location.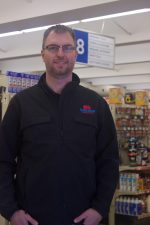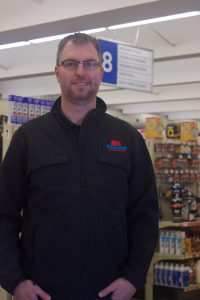 Dave Breukelaar
Co-Owner of Kingdon Truss/Kingdon Timber Mart and VP of Purchasing. Coming from a background as a Professional Engineer, Dave joined the Kingdon Timber Mart team in 2013 and became a partner in 2016. Dave was part of the founding team of our newest and expanded Lakefield retail location.